Washed China Clay Powder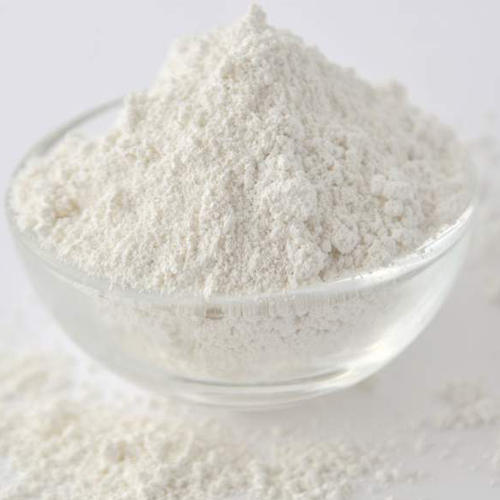 Washed China Clay Powder
Price And Quantity
Ton/Tons

4000.00 - 10000.00 INR
Product Specifications
Minerals

Neutral Refractory
Product Description
Washed China Clay Powder is reckoned for its high density level, stable chemical properties and low porosity level. This soft powder contains hexagonal shaped particles (can be viewed by electron microscope) of kaolinite mineral. Available in cully calcined form, this clay based product has less impurities and it absorbs minimum amount of water. Its refractoriness is high. Its naturally procured version contains minerals like feldspar, quartz and muscovite. Low thermal expansion co efficiency level and low dust content are its key features.
Production of Product: It is produced by using black clay that goes through a number of procedures like grading, washing, rinsing and removal of impurities.
Washed China Clay Powder Specifications:
IUPAC Name: Porcelain clay
Other Name: Kaoline
Molecular Weight: 258.156 g/mol
Molecular Formula: Al2Si2O5(OH)
CAS Number: 1332-58-7
EC Number: 619-103-2
PubChem CID: 56841936
Chemical/Physical Property(such as and also more, as possible):
State: Powder
Appearance/Color: White
pH Value:6.0-7.5
Particle Size: 325 to 6000 mesh
Density: 0.4-0.6
Specific Gravity: 2.7
Whiteness:93 min
Uses of Washed China Clay Powder:
In coating industry, it is used to improve homogeneity of coatings.
Due to its excellent elasticity level, this clay based product is used for gravure printing work.
It is also sued as one of the key raw materials for cast coated paper, corrugated paper and art paper.
It is required to produce low and high voltage ceramic.
This clay powder can enhance hardness level, abrasive attributes and shock protection performance of rubber.
It is used to reinforce plastics for its high dispersion level.
Due to its alumina enriched content, this clay powder is used to produce fiber glass.
Its presence can also be noticed in cosmetics and personal care products like soap and toothpaste.
Specification
Distemper Grade/ Ceramic grade
| | |
| --- | --- |
| 200 Mesh | 2,450 Rs/- PMT |
| 300 Mesh | 2,950 Rs/- PMT (Whiteness 84% to 85% , Silica 0.5%) |
| 300 Mesh | 2,350 Rs/- PMT (Whiteness 80%, Silica 0.1%) |
| 500 Mesh | 3,250 Rs/- PMT |
Rubber Grade
| | |
| --- | --- |
| 300 Mesh | 2,350 Rs/- PMT |
| 500 Mesh | 3,500 Rs/- PMT |
Chalk Grade
| | |
| --- | --- |
| 70 % Whiteness | 2,850 Rs/- PMT |
Detergent Grade
| | |
| --- | --- |
| 200 Mesh | 2,250 Rs/- PMT |
| 300 Mesh | 2,250 Rs/- PMT |
| 500 Mesh | 3,250 Rs/- PMT |
Pesticide Grade
| | |
| --- | --- |
| 300 Mesh | 2,350 Rs/- PMT (Whiteness :-80-85%,, Calcium carbonate:- Nil ) |
Paint Grade
China Clay Lumps :
| | |
| --- | --- |
| Grade 1 (80% whiteness) | 1,050 Rs/- PMT (Loose) |
| Grade 2 (60-70 % whiteness) | 650 Rs/- PMT (loose) |
Trade Information
Asia, Australia, Central America, North America, South America, Eastern Europe, Western Europe, Middle East, Africa

All India, Andhra Pradesh, Chandigarh, Assam, Jharkhand, Arunachal Pradesh, Dadra and Nagar Haveli, Haryana, Goa, Punjab, Nagaland, Uttar Pradesh, Sikkim, West India, Tamil Nadu, Karnataka, Odisha, Lakshadweep, Chhattisgarh, East India, Gujarat, Kerala, Daman and Diu, Maharashtra, Delhi, West Bengal, Bihar, Rajasthan, Meghalaya, Telangana, Manipur, Jammu and Kashmir, Himachal Pradesh, Tripura, Andaman and Nicobar Islands, Central India, Pondicherry, Madhya Pradesh, North India, South India, Uttarakhand, Mizoram